Here's a mix that I have had tucked away for some time. It's not rescued from a tape like the others, it's a CD mix that I made back in 2000. Don't know why but I never released it. I do think I boched the mastering a bit and cranked the mastering compressor too much, oh well…..But hey this mix includes one of my tracks…!!
I'll just leave it as this, here is what I wrote on the inside sleeve of the CD… LOL!
DJ Reaver will be the first to tell you that mixing records is all about fun, and 'Break Of Dawn' certainly is fun.
This CD represents hardcore music from an era that was all about cheesy rip offs and girly piano samples, elements which combined with a party crowd could only mean one thing, a good night out!
As per usual the track selection from DJ Reaver is perfect, all thirteen tracks define the essence of hardcore breakbeat, with a style of mixing that can only emphasis the fun elements of the music.
Be sure the keep this CD handy and take a hit any time you are in need of a lift.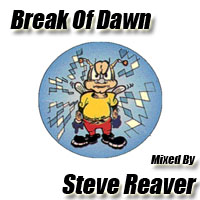 Track List
———-
01. ALK-E-D – Home > Dj Hame Remix
02. JJ – 99 Balloons > Original Mix
03. Happy Division – You Make Me Happy > Original Mix
04. DJ Poosie – It's Gonna Be > Original Mix
05. DJ Brisk – Airhead > SMD Remix
06. Jimmy J & Cru-L-T – Take Me Away > Slipmatt Remix
07. Dougal – Hold On > Original Mix
08. DJ DNA – Reality > Justin Time Remix
09. Billy "Daniel" Bunter + D-Zyne – Ride Like The Wind > Original Mix
10. Sunset Regime & Billy Bunter – You Make Me Feel > Original Mix
11. DJ Reaver – It Makes Me Feel > Original Mix
12. Undercover Elephant – Scratch DJ > Original Mix
13. Redstart – 4 Me & 4u > Original Mix
14. Fat Controller – In Complete Darkness > Original Mix